While Glenn is providing important scientific data by being the oldest person in space, and his medical records from the past 50 years give a written record to compare with his present physical state, it must be noted that he only provides one data point. What does this mean?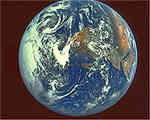 Basically, Glenn is only one person, and one cannot draw strong conclusions from data obtained from only one person. For instance, if the doctors find something unusual with how Glenn absorbs the amino acids in his muscles, that could be because of his space travel, or it could be something unique to Glenn, or unique to men. It is not until you have several people to compare that you can make a general conclusion and apply it to a wider population.
That is why the space experiments try to involve as many astronauts as possible--so there will be more people to provide data for comparisons; a few of the astronauts will not participate in certain studies so that they are the control group. A control group does everything the same except for the experimental part, the variable. So if a few people take amino acids, a few people will not, yet they are spending the same time in space, eating the same food, doing the same activities, so that everything is the same except for the variable, which is taking amino acids. That way, if there is a difference between the groups, you should be able to conclude that it is a result of the amino acids, not anything else.