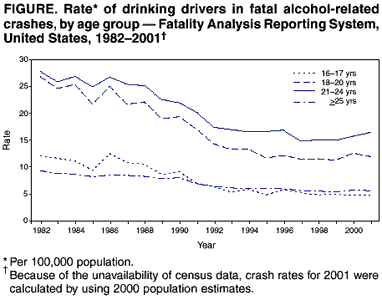 Graph courtesy of the CDC.
Efforts and programs to reduce drunk driving may be responsible for the drop in fatal alcohol-related accidents. For example, in 1984, the Uniform Drinking Age Act required every state to make the minimum legal drinking age 21 years by 1988. Some states have adopted "zero tolerance" laws for people under the age of 21 years. These laws mean that a person younger than 21 years who is caught driving with even a small amount of alcohol in his system could be arrested for "driving under the influence (DUI)." Therefore, public education campaigns that have stressed the dangers of drinking and driving may also be working.

Whatever the reason for this good news, let's hope this trend continues!