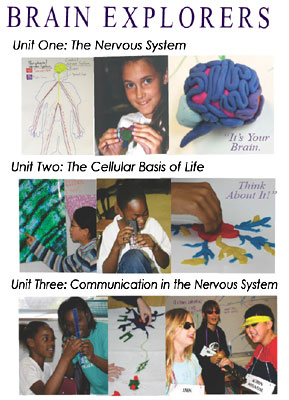 Copyright: Gary E. Duncan, Ph.D., University of North Carolina, Chapel Hill, NC.

The development of the Brain Explorers curriculum was funded by a Science Education Drug Abuse Partnership grant (5 R25 DA11657-03) from the National Institute on Drug Abuse and a grant from the National Institute on Alcohol Abuse and Alcoholism (5-R25-AA-014841), National Institutes of Health.

To view the Brain Explorers material, you must have the free Adobe Acrobat Reader.
Contents
Lesson One: Full Body Tracing
Lesson Two: Clay Brains
Lesson Three: Magic Wand
Quiz and Review
Unit Two: The Cellular Basis of Life
Lesson Four: Introduction to Microscopy
Lesson Five: The Building Blocks of Life
Lesson Six: Neuron Structure
Unit Three: Communication in the Nervous System
Lesson Seven: Reaction Time
Lesson Eight: Neurotransmission Felt Kit
Lesson Nine: Neurotransmission Dance
Lesson Ten: Development