By Ellen Kuwana
Neuroscience for Kids Staff Writer
January 29, 2003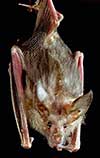 Nature is just enough; but men and women must comprehend and accept her suggestions.
-- Antoinette Brown Blackwell (1825 - 1921)
Nature does nothing uselessly.
-- Aristotle (384 BC - 322 BC)
The small vampire bat is proving these quotations correct. The bat's saliva contains an enzyme that allows it to feed on blood without the blood clotting. (Vampire bats feed most often on birds, cattle, horses and pigs.) Researchers hope to use this enzyme to break up clots in blood vessels. Treatments using this enzyme have the potential to help people who suffer from blood clotting disorders or strokes.
The enzyme in bat saliva is called DSPA (or "desmodus rotundus salivary plasminogen activator," if you want to impress your friends). It is similar to an enzyme called t-PA (tissue plasminogen activator) that is used currently to treat strokes. In new experiments, researchers used mice with brain damage similar to that caused by a stroke. Some of the mice were injected with DSPA; other mice received injections of t-PA. The mice were then studied to determine which treatment caused the least amount of further brain damage and had the greatest effect in reducing the amount of brain damage that had already occurred.

The data showed that the DSPA-treated mice had fewer damaged neurons than the mice that received t-PA. These results suggest that DSPA may offer some advantages over t-PA in the treatment of stroke victims:
less bleeding: DSPA seems to cause less bleeding in the brain as it dissolves the clot. One study showed that t-PA caused some bleeding in 6% of patients who received it. DSPA may work better because it is active only when a clot is present. It works by targeting one component of the blood clot, a protein called fibrin. Fibrin forms the scaffold or structure of the clot.

timing: t-PA must be given within the first few hours after a stroke. Unfortunately, the quick administration of t-PA within these first few hours occurs in fewer than 5% of stroke patients. If patients do not arrive at the hospital quickly or if they are being evaluated during that critical time when t-PA should be given, t-PA may not be given soon enough to be effective. T-PA is usually not given after the three hour mark because the damage caused by it may be greater than its benefits.

Further research is required to determine if the conclusions from the mice studies hold true for humans. Currently, two studies are underway to assess whether stroke patients can benefit from DSPA administered up to 9 hours after a stroke. The results of these studies could be available as soon as the end of 2003.
Clotting disorders and strokes are serious health concerns to humans because uncontrolled bleeding can lead to death. The term clotting refers to a process by which your body sends specialized cells called platelets to the site of the injury. Platelets accumulate and form connections with each other to seal the vessel that is bleeding. Once the damage to the blood vessel is repaired, the clot should dissolve. If the clot becomes large enough to block a blood vessel, vital nutrients and oxygen cannot be transported to the area of the body supplied by the blood vessel. As a result, the area may be damaged and its normal function affected. A complicated cascade of enzymes and proteins is involved in the processes of forming and dissolving clots, so there are many steps at which something can go wrong.