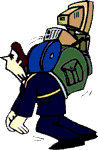 January 17, 2003

Sore Backs at Back of Pack in Backpack Injuries

Getting Hurt by a Backpack -- It May Not Be What You Think

Study Downplays Kids' Backpack Injuries

These headlines appeared recently in the news. Reporting on a study published in the January 2003 issue of Pediatrics, news agencies described how backpacks did not cause back injuries to students. Previous studies, however, have concluded that heavy backpacks did cause back pain. What can we believe? Do backpacks increase the risk of back injuries or not?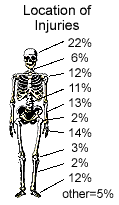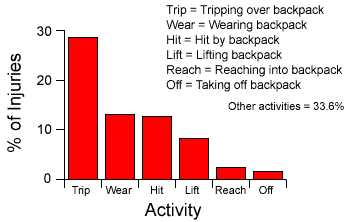 Let's look at the study that was published in Pediatrics. Researchers at the Bi-County Community Hospital (Warren, MI) and Cincinnati Children's Hospital (Cincinnati, OH) examined medical records from the National Electronic Injury Surveillance System (NEISS). The NEISS maintains records of injuries reported by hospital emergency departments. The researchers studied the records of 247 children between 6 and 18 years old who were injured by backpacks.
Most Common Location of Injuries
Backpacks most commonly caused injuries, usually cuts, to the head and face (22% of the injuries to the 247 children). Injuries to the hand (13%) and wrist/elbow (14%) occurred in a variety of situations such as when a pencil punctured a finger, a book jammed a finger and a backpack fell on a hand. Surprisingly, injuries to the back accounted for only 11% of the visits to the emergency room.
Causes of Injuries
Many (29%) kids were injured when they tripped over a backpack. Tripping over a backpack usually caused injuries to the foot, wrist and elbow. Some injuries (13%) occurred when kids were hit by backpacks. The majority of these injuries occurred when the backpack was used as a weapon to strike someone, usually in the head or face. Overall, only 13% of the injuries were associated with wearing a backpack. Moreover, wearing a backpack rarely resulted in back injuries. Similarly, lifting a backpack and taking off a backpack caused few back injuries.

Backpacks are a convenient way to get books, supplies and lunch to school. Do you run the risk of back pain if you use a backpack? Earlier data suggested that backpacks caused significant back pain, but this new study (and accompanying headlines) suggests that back pain is not a problem. Why the difference?

The new study examined the records from emergency rooms only. It is possible that only those people who were seriously injured by backpacks went to the emergency room. Many kids with back pain may not go to the emergency room. They may suffer in silence or they might talk to their doctors at a scheduled office visit. It is still a good idea to keep your backpack off the floor so someone doesn't trip over it. Moreover, backpacks are for carrying things, not for hitting people!