---
University of Washington home page for . . .
Michael Brockman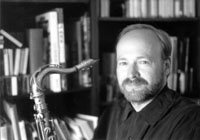 Saxophonist, Composer, Arranger, Band Leader
o UW School of Music Faculty - Saxophone and Jazz Studies
o Artistic Co-Director of the award winning Seattle Repertory Jazz Orchestra
o Tenor, alto, and soprano saxophone soloist with the Clarence Acox Sextet
o Classical saxophone soloist/recitalist with many Seattle ensembles, including the Seattle Symphony and Pacific NW Ballet Orchestra
---
Go to michaelbrockman.com to learn about the Broctave Key and the Frankensax (an experimental saxophone with 12 separate octave-vents)
Click here to enter the UW Saxophone Studio Web Site.
Go to michaelbrockman.com to see a listing of all my current professional activities (outside the UW).
Click here to download an MP3 file from a recent interview of Michael Brockman by Dave Beck on KUOW-FM, including recorded excerpts from Seattle Symphony's new Shostakovich CD (with Brockman as soloist), as well as discussion of Brockman's musical training and background, plus demonstrations of jazz and classical interpretation.
Click here to download an MP3 file of Michael Brockman playing his composition "They Never Said." (3 MB file)
Click here to download an MP3 file of Michael Brockman playing his composition "The KPLU Shuffle."
(3 MB file)
Click here to read a MINI-CLINIC for Saxophones: how to choose a mouthpiece, reed and ligature
Click here to read a MINI-CLINIC for Saxophones: staccato articulations
Click here to view Brockman's UW faculty bio page
Click here to go to the Web Page for the Seattle Repertory Jazz Orchestra
Click here to read the UW Saxophone Flyer
Click here to view my favorite photo--me bungie jumping last summer off the highest foot bridge in Europe (located in Tirol, Austria)
Click here to see a photo of the Seattle Repertory Jazz Orchestra
Click here to see a page of links to magazine articles and interviews from the past four years
Click the following link to contact me by email: <Michael Brockman>