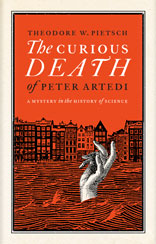 The Curious Death of Peter Artedi: A Mystery in the History of Science

Scott & Nix, Inc., New York
240 pp., hardcover, $25.95
Available December 2010

Told through the voice of a pivotal figure in the Age of Enlightenment, this entertaining work of historical fiction explores the world of old Amsterdam and the mysterious death of a young scientist. When Peter Artedi and Carl Linnaeus first meet in March 1729 as students at Uppsala University, they take an immediate liking to each other and soon form an intense intellectual bond. Sharing their revolutionary ideas about order and hierarchy in nature, the pair develop elaborate plans to classify plants and animals in ways never seen before—Linnaeus focusing on plants and Artedi concentrating on fishes. In September 1735, though, just as Artedi is set to publish his work, he drowns under puzzling circumstances. Following up on a pledge to his lost friend, Linnaeus retrieves Artedi's manuscripts and has them published, not before he publishes his own work and makes a name for himself as a historical figure of epic proportions, while Artedi is quickly forgotten. This story about a little-known event from a key point in history investigates the untold tale behind the friendship of Linnaeus and Artedi and what may have actually happened between them.