Hobbies

I took a jewelry design course as my one elective in my pre-dential studies. I though it might give me a better understanding of how to work with metals. I have not done much with it for years.

My wife and I visited Australia where I made a presentation to their dental anesthesia meeting last year. Prior to the meeting, we visited Coober Pedy, an opal mining town, in the center of the Great Outback. Coober Pedy is about as far as you can get from anywhere. It is a delightful and interesting town. About half the town lives underground. In fact, we stayed in an underground motel. It is really dark and quite when you shut off the lights. While there, we visited some opal mines and ,of course, several opal shops. We found a couple of treasurers and it was left up to me to do the settings. Both opals are about and 3/4 of an inch long.

I called one fish for obvious reasons. The owner of the shop said, "I do not know what anyone is going to do the this funny shaped opal. My son cut it this way because of a defect." He also had a small round black opal. This black opal has a stone inclusion in its middle that looked like the pupil of an eye to me. The defect in the white opal was just the size of the eye opal. So I case up a gold fish to hold these two stones.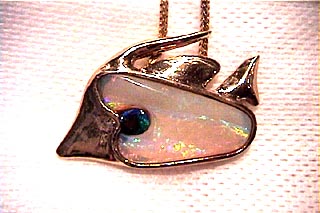 The setting I call "fire" had a lot of red so I thought some gold sticks would set it off nicely as a fiery bond fire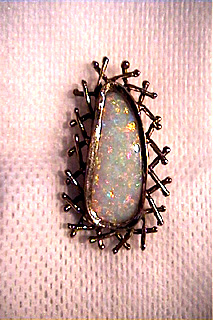 Dentistry does have a practical side. If you get tired casting inlays, you can always make jewelry.
I also enjoy bowl turning. Below are two bowls I have turned. The larger is about 12 inches in diameter and was laminated from about 120 pieces of wood. The second bowl was from a single piece including a knarrled surface.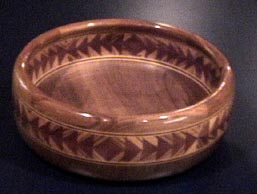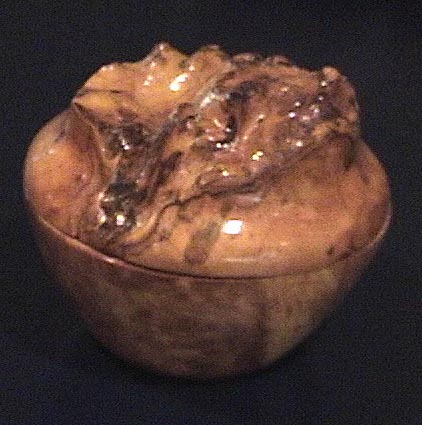 I did a small bud vase about 4 inches tall and a goose plate 10 inches in diameter of bird's-eye maple, what else?