Name_______________________________

The Eye

Use the words from the list below to label the following diagram of the eye in the lines provided.

Word Bank

Anterior Chamber - Choroid - Cornea - Fovea - Iris - Lens

Optic Nerve - Pupil - Retina - Sclera - Vitreous Humor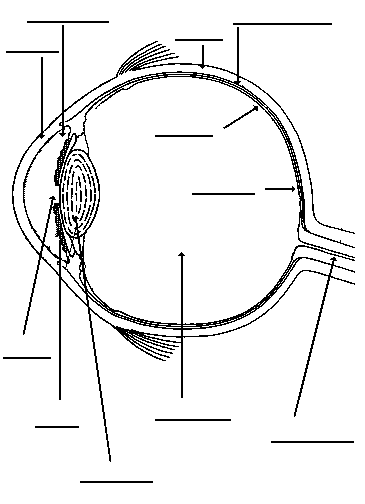 Below is a list of different parts of the eye. On the lines following each word, write out what that structure does for the neuron (its function) and where it is located on the neuron.
Aqueous Humor:________________________________________________________
______________________________________________________________________
Cones:_________________________________________________________________
______________________________________________________________________
Cornea:_______________________________________________________________
______________________________________________________________________
Iris:_________________________________________________________________
______________________________________________________________________
Lens:_________________________________________________________________
______________________________________________________________________
Pupil:_________________________________________________________________
______________________________________________________________________
Retina:_________________________________________________________________
______________________________________________________________________
Rods:_________________________________________________________________
______________________________________________________________________
Vitreous Humor:________________________________________________________
______________________________________________________________________