Programs for Trauma Survivors
Information on trauma and PTSD:
Information on the clinical trial:
Experiencing an extremely stressful event, such as an assault or car accident, can be emotionally painful. The suffering doesn't stop when the trauma ends. Often, trauma survivors continue to have distressing thoughts and beliefs.
"People can't be trusted—the world isn't safe."

"I have no control. I am going crazy."

"My life will never be the same."

"It was my fault—I should have known what would happen."
With this research study, we offer treatment for the anxiety, flashbacks, and depression that often follow a trauma.
Research shows that many trauma survivors develop symptoms of PTSD immediately after the trauma. Many continue to suffer chronic reactions three or more months later.
Post-traumatic stress disorder (PTSD) is a condition that can develop after a person has experienced a traumatic event, such as:
Sexual assault

Childhood sexual assault

Assault with a weapon

Combat

Armed robbery

Car accident
Some symptoms of PTSD include:
Recurrent thoughts of the trauma

Intense feelings of fear and anxiety

when reminded of the trauma

Nightmares

Sweating, racing heart, or hot or cold flashes when reminded of the trauma

Avoiding situations, people, or thoughts associated with the trauma

Feelings of detachment from others

Difficulty experiencing strong emotions (feeling numb)

Jumpiness or a tendency to be easily startled
What is a Clinical Trial?
A clinical trial is a research study to answer specific questions about new therapies or new ways of using established treatments. Clinical trials are used to determine whether new drugs or treatments are both safe and effective. Most current drug therapies were initially developed in past clinical trials. When being considered for a Clinical Trial, the research staff will provide you with an informed consent document that includes the following details: why the research is being done, what will be done during the trial, what risks and benefits can be expected, availability of alternative treatments, contact information, confidentiality, and any costs.
At the UW Center for Anxiety and Traumatic Stress and at the Post Traumatic Stress Disorder Research and Treatment Program, we study and treat the symptoms of PTSD. Because we receive funding for our research, we are able to offer no-cost services to eligible individuals who are experiencing trauma-related problems.
To find out if you are eligible for our services, please call the program in your area. One of our staff will conduct a brief interview by phone. If you are not eligible for any of our services, we will provide free referrals to other sources.

Contact Information and Directions for UW (Seattle, WA)
UWCATS) University of Washington Center for Anxiety & Traumatic Stress
The Center for Anxiety and Traumatic Stress at the University of Washington is affiliated with the Department of Psychology. The program's mission is to provide treatment services (medication or psychotherapy) to trauma survivors. As a research program for post-traumatic stress disorder (PTSD), we seek to offer the most innovative, empirically supported, and effective treatments for the disorder.
Tel: 206-685-3617
Guthrie Annex II, 2nd Floor | Box 351525
University of Washington | Seattle, WA 98195
| | |
| --- | --- |
| Lori A. Zoellner, Ph.D. | |
| Peter Roy-Byrne, M.D. | Joyce Bittinger, M.S. |
| Joshua McDavid, M.D. | Michele Bedard, M.S. |
| Jessica Chen, B.A. | Stephanie Pierce, B.A. |
| Jeff Jaeger, M.S. | Aileen Echiverri, B.S. |
Directions
From I-5:
Take the 45th street exit (UW)

Go east on 45th street to 15th avenue and turn right on 15th

At 40th street, turn left onto campus (Gate 5)

At the gatehouse, tell the attendant that you have an appointment in Guthrie Annex II
By Bus:
From routes 43, 44, 45, 46, 48, 75, 167, 271, 272, 277, and 373, exit the bus at 15th avenue and 40th street (Gate 5)

Take the pathway from the SE corner of the intersection to the C-8 parking lot and Guthrie Annex II

Guthrie Annex II is the two-story, grayish building at the south end of the C-8 parking lot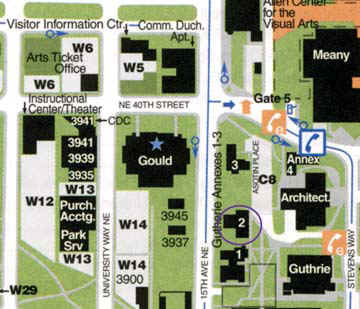 Contact Information and Directions for Case Western Reserve (Cleveland, OH)

Post Traumatic Stress Disorder Treatment and Research Program
Case Western Reserve University
The Post Traumatic Stress Disorder Treatment and Research Program offers free evaluations, cognitive-behavioral treatment and/or medication to eligible men and women. This program is offered at University Hospitals of Cleveland/Case School of Medicine. The purpose of this program is to provide treatment to men and women suffering with PTSD.
Tel: 216-983-0836
Case Western Reserve University
Department of Psychiatry / Hanna Pavilion
11100 Euclid Avenue / Cleveland, Ohio 44106
| | |
| --- | --- |
| Norah C. Feeny, Ph.D. | Sue Baab, R.N., M.S.N., C.S. |
| Matig Mavissakalian, M.D. | Edwin Shirley, Ph.D. |
| Nora McNamara, M.D. | Jeannie Duax |
| Eric Youngstrom, Ph.D. | Annamaria Aguirre |
| Lisa Stines, Ph.D. | Jennifer Fabritius |
| | |
Directions
From the North:
Exit 1-90 at Martin Luther King Blvd. Proceed south to Euclid Avenue

Turn left on Euclid, then right on Cornell Road
From the South:
Take 1-77 North or 1-71 North (both become 1-90 East) to the Chester Avenue exit

Proceed east on Chester to Euclid Avenue

Turn left on Euclid, then right on Cornell Road
From the East:
From the Ohio Turnpike the suggested route is 1-480 West to 1-271 North

Exit at Cedar Road. Proceed west to Murray Hill Road

Turn right on Murray Hill Road, then left on Cornell Road
From the West:
Follow 1-480 to 1-71 North, or take 1-90 East

Shortly past the merge of 1-71 North - I-90 East, exit on Chester Avenue

Proceed east on Chester to Euclid Avenue

Turn left on Euclid, then right on Cornell Road
****The suggested parking area is the Cornell Parking garage