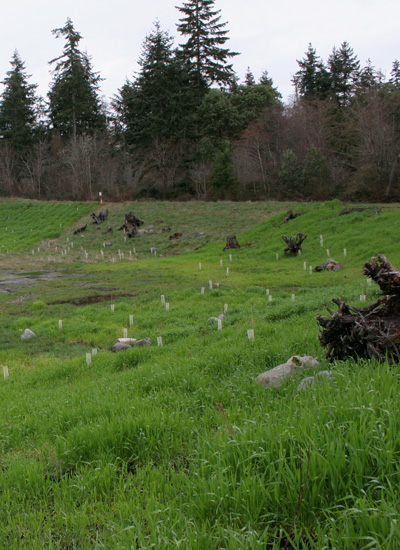 Dr. Sally Brown
Vashon Island
Borrow Pit Reclamation
At the Vashon Island solid waste transfer center a large area of disturbance was created several years ago when topsoil was removed to provide cover for the nearby landfill. The disturbance left behind a circular depression approximately 5m in depth and 200m in diameter. The soil material left behind was mostly sand and gravel material, low in organic matter and very poorly drained, leading to waterlogging in some areas and poor native plant cover. Prior attempts at reestablishing trees similar to local forest cover had failed. At the time of the initiation of the study the reclamation area was dominated mostly by non-native grasses and weedy species.

In September of 2009 my student Kate Kurtz and I partnered with King County Parks and Recreation and installed a several study plots to test the suitability of several organic soil amendments for improving soil quality and reestablishing tree cover. Eight different soil treatments with two replications each were established on the slopes ringing the site, approximately 20m by 20m and extending the length of the slope. The soil treatments included two rate of GroCo biosolids compost, GroCo + clean fill, compost from a local food waste collector, compost + fill, a Restoration Mix made with biosolids and local storm drain woody debris, NPK fertilizer and no treatment (control). Several months after plot establishment volunteers planted native tree seedlings on the plots in an effort to establish more tree cover and speed site recovery.
Study Site Location
The borrow pit was on the western side of Vashon Island, located several miles southwest of Seattle, Washington (see maps below).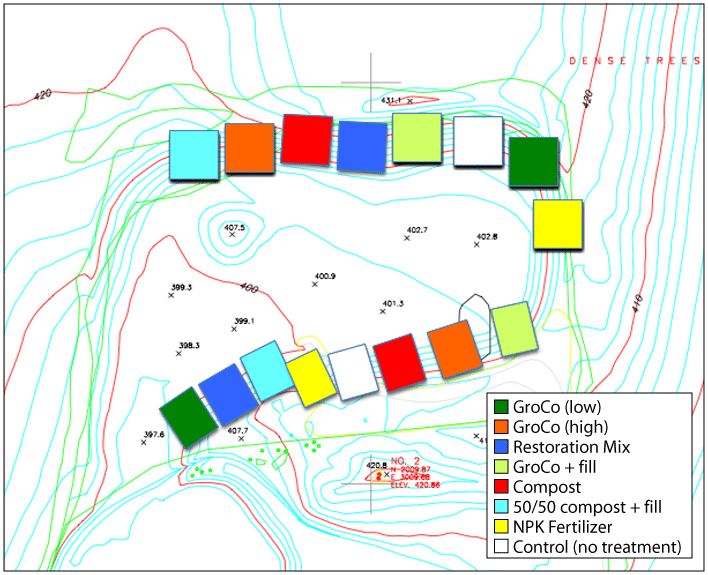 Soil Treatments
Each soil amendment was spread onto an approximately 20mx20m area of borrow pit extending from the top the slope to the bottom. Each treatment was replicated twice. The amendments and rates applied are shown below.
Site monitoring
We monitored the site from 29 September 2009 to 17 August 2010. The test plots were sampled on eight different occasions across this time span. During each sampling event we collected gas samples for nitrous oxide flux, soil samples for soil pH, carbon and nitrogen analysis, and measured soil and air temperature. Periodic assessments of plant cover, tree seedling survival and standing biomass were also made.
Photos
The photos below give a rough chronological picture (September 2009-2010) of reclamation at the Vashon Borrow Pit, including gas sampling, intial rapid growth of hybrid wheat, volunteers planting native trees, dieback of wheat, and monitoring of seedling establishment.
Home