Neural Activity Measures and Their Dynamics
Download the paper published in SIAM J. on App. Math. (SIAP)
Motivation
The collective behavior of a population is often determined by the individual dynamics.
Interactions within the population modify the dynamics even of a completely synchronized population.
Weak pairwise connections can still modify population dynamics.

We resolve the dynamics of a projection of the network (Activity Measure). The projection can be the mean over all neurons, higher order moment or orthogonal decomposition.
Formulation
Neurons' dynamics are described by ODEs separated to self dynamics and pairwise interactions.
Self dynamics are very general and can be modeled by nonlinear equations with several gating variables: Hodgkin-Huxley, Morris-Lecar, FitzHugh-Nagumo and other reductions.
Pairwise interactions can be also very general. In the examples here they are simplified to analytic and only in the voltage variable.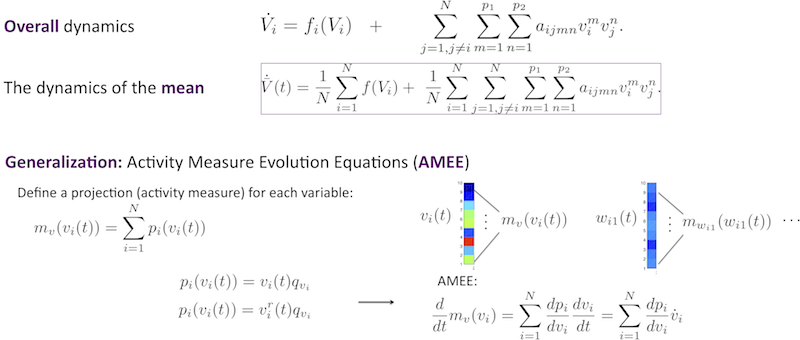 Reduction
When there is a "synchronous" attractor, such that assymptotically each neuron's trajectory is described by a trajectory on that attractor, evolution equations of the activity measure are simplified.
Here we demonstrate these equations for the mean and identical neurons.

Computational examples
Identical FitzhHugh-Nagumo neurons
Differnet interactions (here linear and bilinear) result with various "effective" collective dynamics and the evolution equations of the activity measure describe the dynamics.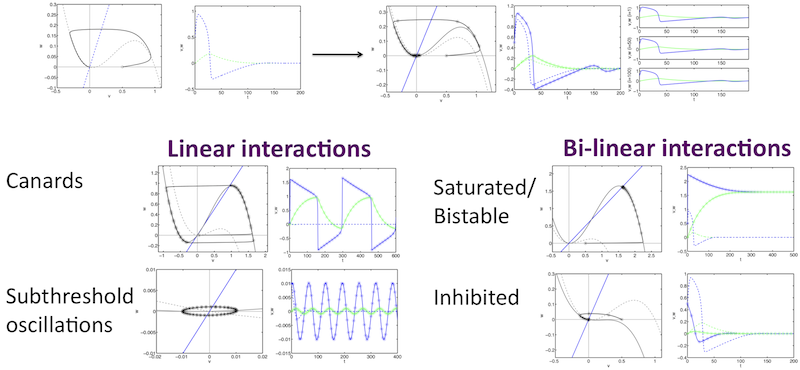 Almost identical FitzhHugh-Nagumo neurons
Once synchronization occurs the evolution equations of the activity measure describe the dynamics.