My research focuses on understanding fundamental physical processes that shaped Earth's surfaces in the past and are presently affecting the surface and near surface environments of Earth and other terrestrial planets. Where possible, my research combines field work and complementary remote sensing methods to obtain a spatial perspective that could not be obtained otherwise. In the field, I employ 'traditional' geomorphic mapping and soil descriptions as well as high-resolution 3D surveying with ground-based LiDAR and/or GPS RTK systems. I frequently build on Quaternary dating techniques such as luminescence and CRN. My remote sensing research efforts include multi- and hyper-spectral visibile to thermal infrared images, radar images and ariborne LiDAR data.
Current projects include (by theme): Rock weathering on desert surfaces, Intra-continental strike-slip deformation, Coastal erosion, Active surfaces processes on Mars and research related to NASA's Terra/ASTER satellite. Quick links to individual research projects are listed on the left.
---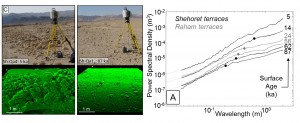 Roughness for weathering – P
ower spectral denisity (PSD) analysis of mm-scale 3D LiDAR measurements reveals systematic
roughness evolution on
desert
alluvial surfaces during late Quaternary time-scales. These spectral roughness measurements provide new quantitative insights into the process and rates of subaerial rock weathering in such terrains.
Read more…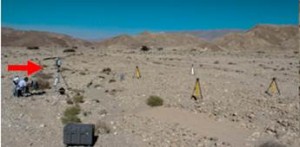 Roughness for surface age –

LiDAR-based
measurements of surface roughness provide quantitative proxies for obtaining regionally calibrated surface ages for abandoned alluvial surfaces in desert environments.
M.Sc. project Eran Trabelci.
Read more…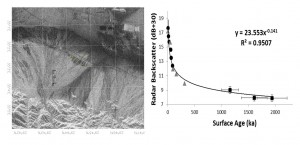 Dating alluvial surfaces with spaceborne radar – ALOS-PALSAR (L-band) images are established as calibrated proxies for obtaining numerical surface age estimates for alluvial surface in desert environments and for carrying out regional-scale tectonic and landscape evolution studies. Ph.D. thesis Guy Hetz. Read more…