Seattle's Lake Union and the neighborhoods that ring its shores present two centuries of North American urban history in microcosm. What was once a place of sawmills and gasworks, later the site of unrealized plans for a grand civic center, is now a high-tech hotbed. A lake that was once circled by railways, then by freeways, is now bordered by streetcar lines and bike paths.
Over the course of 150 years, massive engineering projects to level hills and fill in marshland have transformed the original topography and disrupted natural ecosystems. The social, economic, and environmental histories are explored by the galleries on this site, each of which takes a block in South Lake Union and shows its past evolution, its present condition, and where it might go next.
Through this website you can learn more about the micro-histories of more than 70 blocks in the neighborhood. You can also explore thousands of images and primary source documents in the image gallery.
Featured Item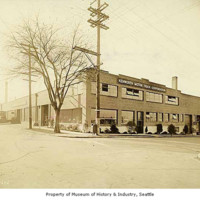 Featured Exhibit
Block 26 is bordered by Harrison Street, Fairview Avenue, Thomas Street and Boren Avenue. Unlike much of South Lake Union,...