The rainforest of West Africa is a center of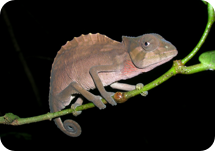 biological diversity. There is also an alarming rate of habitat loss. In Ghana alone, natural forests have diminished to about 15% of their former cover. The expansion of savannah during the Pleistocene resulted in a patchy rainforest distribution.  We are studying comparative phylogeography of reptiles and amphibians across this dynamic landscape.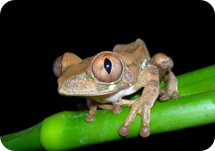 We've been conducting biological surveys in West Africa over the past decade and collected thousands of specimens for genetic studies. These biodiversity studies are important for answering fundamental questions in evolutionary biology and for documenting species occurrence and diversity in areas of rapidly diminishing habitat.
Mechanisms of Diversification in West African Rainforest Amphibians and Reptiles (NSF-DEB-1457232/1456098)
The goal of this collaborative project with co-PI Matt Fujita is to identify the mechanisms of diversification and speciation in rainforests of West and Central Africa. Understanding the processes that generate and maintain high species diversity in tropical ecosystems has remained a prominent question in evolutionary biology for over a century. This pursuit is important not only to interpret how ecosystems develop and change over time, but also to guide our decisions on how to best preserve a threatened biota.
This project will accelerate the pace of biodiversity discovery of the region's rich amphibian and reptile fauna by:
(1) Coupling the rapid generation of genetic data with traditional morphological and ecological data to discover and describe new species.
(2) Developing new computational tools for comparative biology that can accommodate genomic data, and therefore contribute important new statistical methodologies for studying diversification mechanisms across any biome in any organism.
(3) Opening gateways to 
new technology by providing computational workflows for addressing key questions in biodiversity studies
The project brings together an international team with expertise in African biodiversity. In addition, this project will help train the next generation of systematic biologists by providing valuable training to talented and diverse pools of undergraduate and graduate students at the University of Texas at Arlington and the University of Washington.