The annual JMIH "herp" meetings were held last week in Chattanooga Tennessee.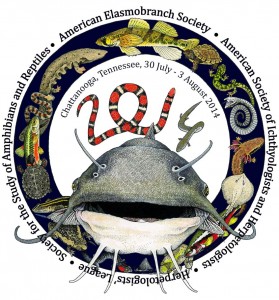 The meetings were great, and there were plenty of great talks by UW researchers. Jared Grummer won 1st runner-up in the HL Graduate Research Award competition for best student presentation. During the genomics session, Charles Linkem took his audience on a tour of the "anomaly zone" (a mythical place in phylogeny land where everything you do is wrong). Matt McElroy charmed everyone with his talk on thermal adaptation in Anolis lizards – the conclusion is that they're hot.   Rachel Arnold's talk on frog fish phylogeny (her dissertation work) was amazing. For those of  you who don't know, I should have mentioned that fish people present at the herp meetings too.
The meetings ended on a high note late Monday night with the always entertaining SSAR auction. In case you missed the auction, you can watch me get outbid on a really expensive snake hemipene t-shirt. The t-shirt sold for $270!
httpv://youtu.be/4p0FNVBbAkg
We're all looking forward to future herp meetings in Reno & KU in 2015, and New Orleans in 2016.