East 20th St between 1st and 2nd Avenues in 1938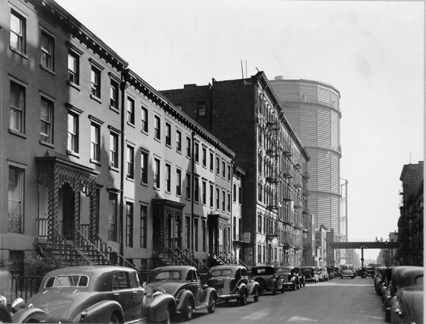 All text and images ©1998 Museum of the City of New York
---
TWENTIETH STREET BETWEEN SECOND AND FIRST AVENUES
OCTOBER 26, 1938. ABBOTT FILE 308

The same day she photographed Union Square and Luchow's restaurant, Abbott walked a few blocks northeast to East 20th Street in the old "gashouse district," named for the gashouses built along the East River. In Victorian New York, the neighorhood was one of the city's poorest and most feared; leaking gas tanks poisoned the air, and gangs endangered the streets. By the 1930s, all but four of the tanks were gone, and the area was shabby but unthreatening.

Abbott's photograph shows one of the remaining Consolidated Edison tanks, between First Avenue and Avenue A. In the foreground between First and Second Avenues are mid-nineteenth-century row houses and taller tenements from the turn of the century. The shadow falling across their facades is cast by the gabled roof of P.S. 40, one of the many public schools built in poor neighborhoods during the Progressive Era. In the distance is the Second Avenue El, which ran along First Avenue south of 23rd Street; it was built in 1877 and torn down in 1942.

In 1947, the area from First Avenue to the East River Drive between East 20th and 23rd Streets was cleared for the construction of Peter Cooper Village, a huge middle-income housing development catering to servicemen returning from World War II. To meet the needs of baby boomers, the block between First and Second Avenue became the site of Junior High School 104.

See the whole index of the Berenice Abbott photos at the web site of the Museum of the City of New York.