Tropical Climate & Hydrology Since the Last Glacial Maximum

Tropical Pacific climate changes during the last 2,000 years
Holocene changes in the Intertropical Convergence Zone (ITCZ)

Paleohydrologic reconstructions from molecular & isotopic changes in tropical Pacific lake, bog & ocean sediments
El Niño-Southern Oscillation variations since the last glacial maximum
SST reconstructions from alkenones in Eastern Equatorial Pacific sediments

Panama Basin 2005

Kosrae, FSM 2009
Fiji 2011
Solomon Islands 2011
Kosrae 2011
Leduc, Sachs, Kawka, Schneider (in press). "Holocene changes in eastern equatorial Atlantic salinity as estimated by water isotopologues."

Earth and Planetary Science Letters

.

Smittenberg, Saenger, Dawson, Sachs (2011) Compound-specific D/H ratios of the marine lakes of Palau as proxies for West Pacific Warm Pool hydrologic variability.

Quaternary Science Reviews

Vol. 30: 921-933.

Carré, Azzoug, Bentaleb, Chase, Fontugne, Jackson, Ledru, Maldonado, Sachs, Schauer (2012) Mid-Holocene mean climate in the south eastern Pacific and its influence on South America.

Quaternary International

.

Sachs & Myhrvold (2011) "A shifting band of rain."

Scientific American

Vol. 304: 60-65.
Zhang, Metzger, Sachs (2011) "Co-occurrence of long chain diols, keto-ols, hydroxy acids and keto acids in recent sediments of Lake El Junco, Galapagos Islands."

Organic Geochemistry

Vol. 42: 823-837.

Sachs & Ladd (2010) "Climate and oceanography of the Galapagos in the 21st century: expected changes and research needs."

Galapagos Research

Vol. 67: 50-54.

Sachs, Sachse, Smittenberg, Zhang, Battisti, Golubic (2009) "Southward movement of the Pacific intertropical convergence zone AD 1400-1850."

Nature Geoscience

, 2(7): 519-525.
Koutavas & Sachs (2008) Northern timing of deglaciation in the eastern equatorial Pacific from alkenone paleothermometry,

Paleoceanography

Vol. 23: PA4205, doi:10.1029/2008PA001593.
Sachse & Sachs (2008) Inverse relationship between D/H fractionation in cyanobacterial lipids and salinity in Christmas Island saline ponds.

Geochimica et Cosmochimica Acta

Vol.72: 793-806.
Pahnke, Sachs, Keigwin, Timmermann, Xie (2007) Eastern tropical Pacific hydrologic changes during the past 27,000 years from D/H ratios in alkenones,

Paleoceanography

Vol. 22, PA4214, doi:10.1029/2007PA001468.
Smittenberg & Sachs (2007) Purification of dinosterol for hydrogen isotopic analysis using high-performance liquid chromatography–mass spectrometry

Journal of Chromatography A

Vol. 1169: 70-76.
Zhang, Metzger & Sachs (2007) Biomarker evidence for the co-occurrence of three races (A, B and L) of Botryococcus braunii in El Junco Lake, Galápagos,

Organic Geochemistry

Vol. 38: 1459-1478.
Saenger, Smittenberg, Miller, Sachs (2006) A Physico-chemical survey of inland lakes and saline ponds: Christmas Island (Kiritimati) and Washington (Teraina) Islands, Republic of Kiribati

Saline Systems

Vol. 2(1): 8
Sachs & Smittenberg (2005) Reconstructing the History of El Niño from Galapagos Lakes

EAPSpeaks

, MIT-EAPS Newsletter Vol. 1(1).
Koutavas, Lynch-Stieglitz, Marchitto, Sachs (2002) "El Niño–like pattern in Ice Age tropical Pacific sea surface temperature."

Science

Vol. 297: 226-230.
---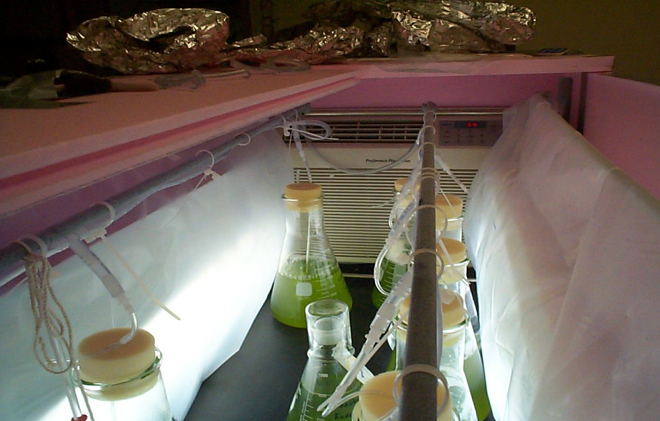 Inside of batch culturing chamber
Phytoplankton Continuous cultures

---
We are growing mangroves in order to quantify the hydrogen and carbon isotope fractionation during lipid synthesis across a range of salinities. This research was motivated by graduate student Nemiah Ladd's observation that
hydrogen isotope ratios in lipids from the leaves of the gray mangrove,

Avicennia marina

, decreased as salinity increased
in the Brisbane River (SE Queensland, Australia). This is opposite the fractionation response observed in phytoplankton, whose lipids are characterized by an increase in their deuterium-to-hydrogen ratio as salinity increases (see our studies from
Christmas Island
and the
Chesapeake Bay
). We would like to quantify this response with controlled experiments with a variety of mangrove species so that we can calibrate a paleosalinity proxy from mangrove lipids in sediment cores. These experiments are being performed by graduate student Nemiah Ladd with assistance from UW Biology undergraduate June Landenburger.
Our first mangroves were planted in our lab in July, 2011 with propagules of
Rhizophera apiculata
that we collected in Pohnpei, Micronesia.
The figure on the left
shows the outside of 3 of the growing tanks, covered with plastic to maintain high humidity. There is a mock tidal cycle with two high and two low tides per day.
The figure on the right
shows the inside of the 15 PSU salinity tank on October 3, 2011. The largest plants are
Rhizophera apiculata
. There are also
Rhizophera mangle
and
Laguncularia racemosa
plants growing in this tank, from propagules and seeds from Florida. If you look closely you can also see some
Xylocarpus granatum
seeds that have roots, but no shoots yet. These were collected in Kosrae, Micronesia in September, 2011.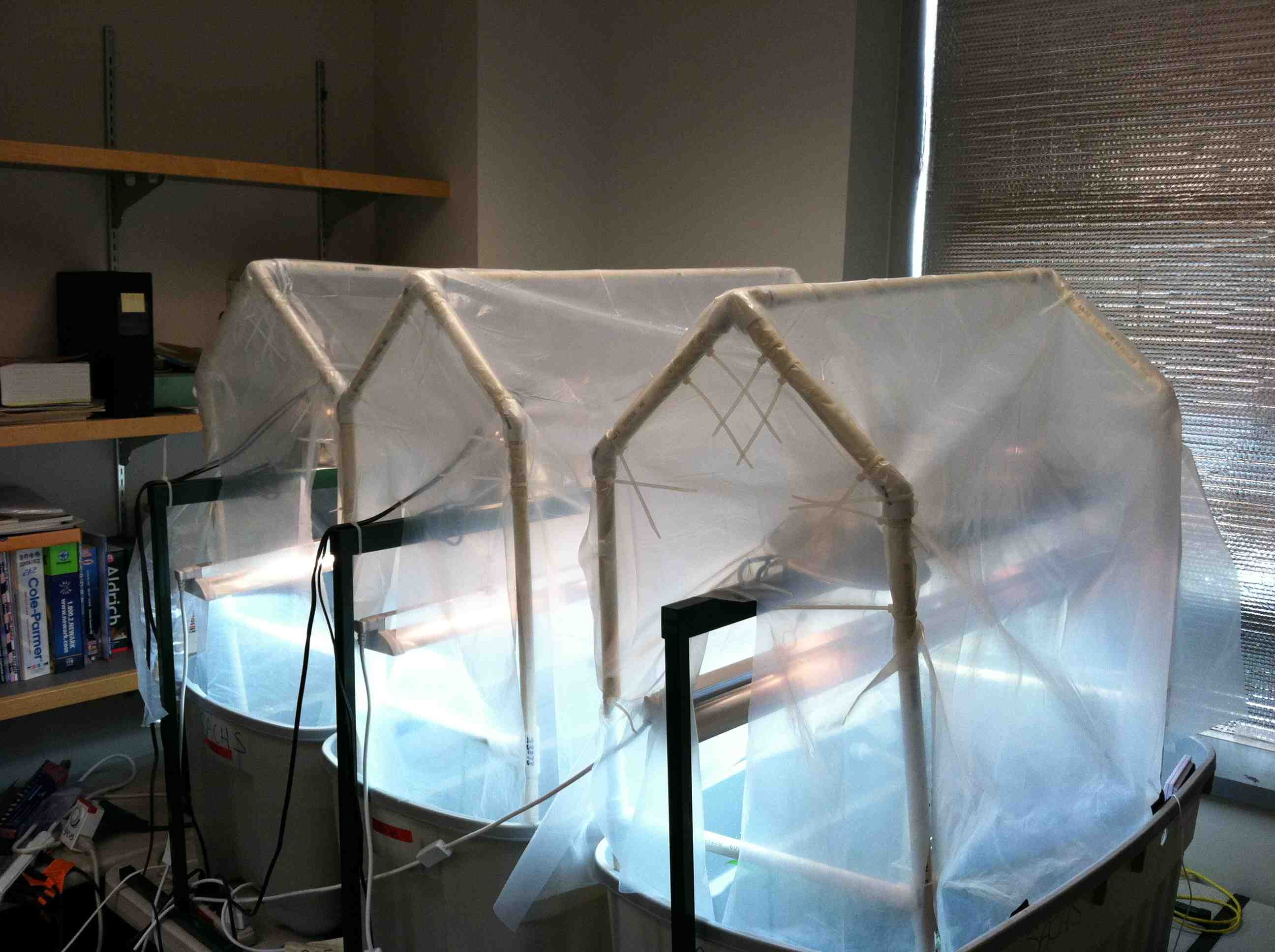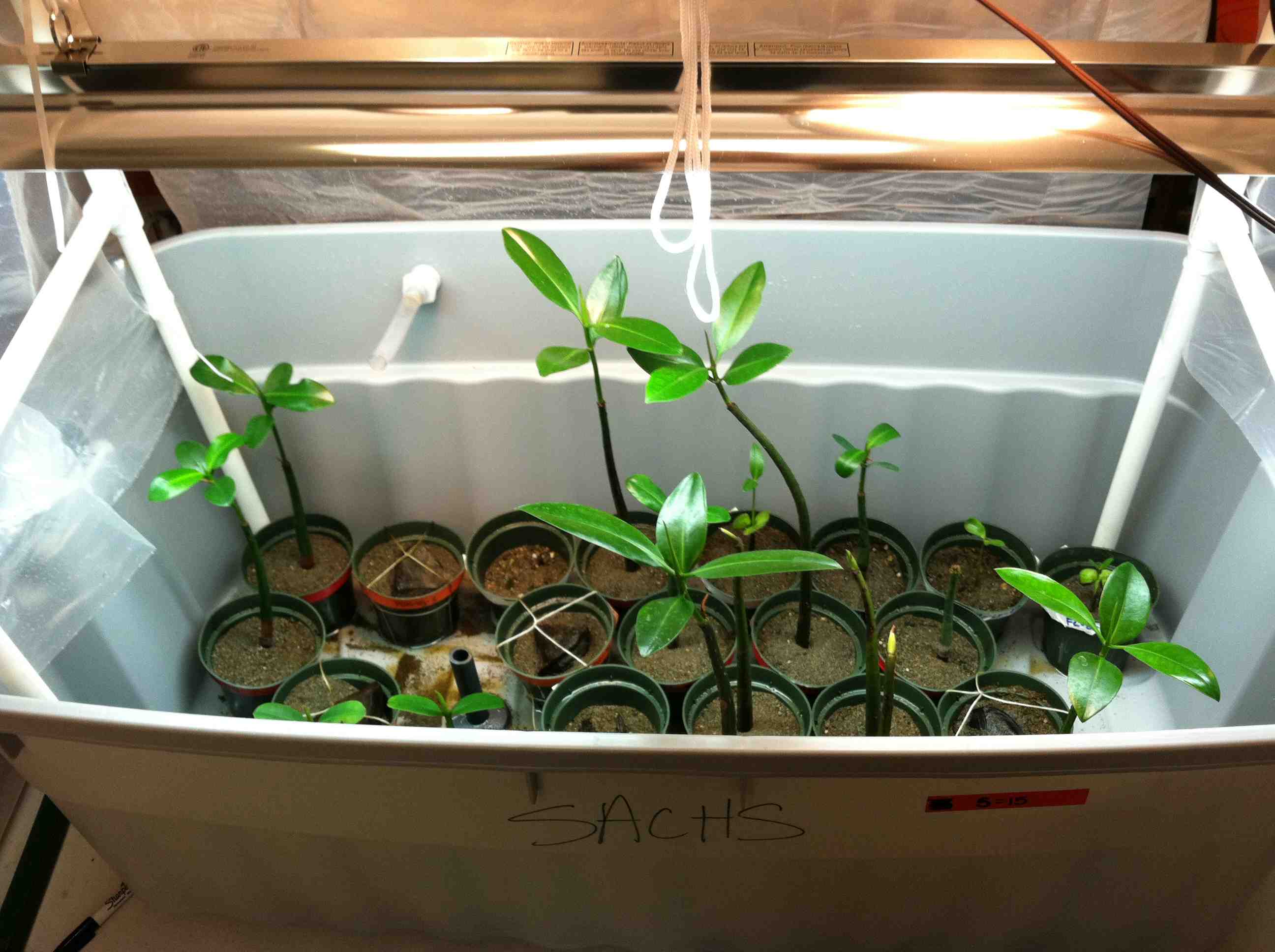 In order to expand the number of plants and salinities we could maintain, and better control temperature and humidity, we moved our mangrove experiments to the
University of Washington Botany Greenhouse
in mid-2012. As of December, 2012 we have 6 species of mangroves growing at 6 different salinities (see below images).
The large number of species are required in order to evaluate the mechanisms responsible for hydrogen isotope fractionation in mangrove lipids as a function of salinity since three different strategies for managing salt are employed by mangroves, alone or in combination. The images below are from October 11, 2012.
Below left
you can see tall shoots of
Heritiera littoralis
(from Honolulu, HI) and young
Rhizophera apiculata
(from Pohnpei, FSM) plants.
Below right
you can see shoots of
Xylocarpus granatum
amongst young
Rhizophera apiculata
plants, both of which were collected in Pohnpei, Micronesia in August 2012.
---
Field Studies: Yap, Chuuk, Pohnpei & Guam (2012), Station ALOHA Cruise,

R/V Thomas G. Thompson

(2012), NE Pacific Cruise,

R/V Point Sur

(2012), Brisbane River (2010), Saline Lakes of Canada's Western Great Plains & Utah's Great Salt Lake (2007), Cargill-Newark Salt Works (2008), Christmas Island (2005), Chesapeake Bay (2006)
Publications:
---
El Niño & Peru Upwelling from Mollusks
JISAO Postdoctoral Fellow,
Matthieu Carré
(now CNRS Chargés de Recherche at Univ. of Montpellier, France), is using oxygen and carbon stable isotopes in mollusk shells from middens along the coast of Peru to reconstruct the history of upwelling and El Niño during the Holocene.
Carré, Sachs, Schauer, Rodriguez (in press). "Reconstructing El Niño-Southern Oscillation activity and ocean temperature seasonality from short-lived marine mollusk shells from Peru."

Palaeogeography, Palaeoclimatology, Palaeoecology

.

Carré, Azzoug, Bentaleb, Chase, Fontugne, Jackson, Ledru, Maldonado, Sachs, Schauer (2012) Mid-Holocene mean climate in the south eastern Pacific and its influence on South America.

Quaternary International

, 253: 55-66.
Sadler, Carré, Azzoug, Schauer, Ledesma, Cardenas, Chase, Bentaleb, Müller, Mandeng, Rohling, Sachs (2012). Reconstructing past upwelling intensity and the seasonal dynamics of primary productivity along the Peruvian coastline from mollusk shell stable isotopes.

Geochemistry, Geophysics, Geosystems

, 13(1): Q01015. doi:10.1029/2011GC003595.
Carré, Sachs, Wallace, Favier (2012). Exploring errors in paleoclimate proxy reconstructions using Monte Carlo simulations: paleotemperature from mollusk and coral geochemistry.

Climate of the Past

, 8: 433-450.

---
The origin of fine particles in sediment drifts

Eastern Mediterranean sapropels
Nitrogen & carbon isotopes in chlorophyll
Julian Sachs

- Principal Investigator

Dr. Josh Gregersen - Research Scientist/ Engineer 3 & Lab Manager



Dan Nelson - Graduate Student

Alyssa Atwood - Graduate Student, NSF Graduate Fellow, DOE Graduate Fellow


Nemiah Ladd - Graduate Student, NSF Graduate Fellow


Ashley Maloney - Graduate Student, UW Program on Climate Change Fellow, Global Change IGERT Fellow


Johnny Huynh - UW Oceanography Undergraduate, Mary Gates Scholar


Ariel Townsend - UW Oceanography Undergraduate

Chris Paschall - UW Oceanography Undergraduate

June Landenburger - UW Biology Undergraduate

Ryan D'Jay - UW Oceanography Undergraduate


---

Lab Alumni

Kathleen Hemeon - Research Aide I, Phytoplankton Specialist

Dr. Julie Richey - NOAA Postdoctoral Fellow

Dr. Avery Cook Shinneman - Postdoctoral Investigator

Dr. Ines Mügler - Humboldt Postdoctoral Fellow

Dr. Orest Kawka - Lab Manager / Research Scientist II

Amanda Chomos, Laboratory Assistant


Dr. Juzhi Hou - UW PCC Postdoctoral Fellow

Dr. Matthieu Carre - JISAO Postdoctoral Fellow

Brittany Demianew - Research Scientist I

Dr. Valerie Schwab - Swiss NSF Postdoctoral Fellow

Dr. Dirk Sachse - Humboldt Postdoctoral Fellow

Dr. Katharina Pahnke - Comer Postdoctoral Fellow


Dr. Zhaohui Zhang - Comer Postdoctoral Fellow


Casey Saenger - Graduate Student

---

Recent Undergraduate Researchers

Conor Myhrvold - Princeton Undergrad., MIT Science Writing Graduate Student

Tory Johnson - UW Undergraduate

Thien-Y, Le - UW Undergraduate

Jake Zaragoza - JISAO Summer Intern / Gonzaga Univ. Undergraduate

Kyle Thomas - Texas Southern University Undergraduate, NOAA/JISAO Intern

Fran Janny - UW Undergraduate

Jeff Bowman - Levinson & Mary Gates Scholar

Jane Lee
Eric Battisti
Brittany Demianew
Carie Frantz
Evan Howard
Brittany Kimball
Daniel Luksic
Jen Nomura

---

Recent High School Interns

David Golub - Interlake High School Gifted Student Intern

Nathan Kato - Interlake High School Gifted Student Intern


---

Lab Photos


(We like to snowboard & ski!)

Mount Baker - March 25, 2012

L to R: Dan, Ashley, Julian, Josh

Crystal Mountain - March 29, 2011

L to R: Julian, Dan, Avery, Julie, Mat, Ashley

Ashley & Julie on SHENDA - Nov 2, 2010

---

Mt. Baker Powder Day - March 31, 2008
L to R: Alyssa, Julian, Dan
Steven's Pass Powder Day - March 9, 2006
L to R: Luzzi, Valerie, Julian, Dirk, Rienk