PRESENTING SPONSORS
---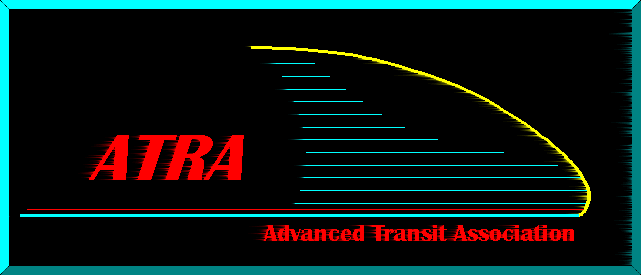 The Advanced Transit Association (ATRA) was founded in 1976 to address the long run failure to properly meet the transportation needs in the nations urban and suburban areas through promotion of advanced transportation concepts in the form of automated people movers and personal rapid transit systems. ATRA and its members have produced and disseminated a wide variety of research papers, publications, newsletters, and system designs in the advanced transportation realm. ATRA has held conferences and acts as a supporting organization for the American Society of Civil Engineers' International Automated People Mover Conference series.
In 1989 ATRA produced a Personal Rapid Transit (PRT) Feasibility Study which helped catalize a joint venture between the Chicago Regional Transit Authority and the Raytheon Corporation to implement a $60 million dollar PRT prototype project.
ATRA's objectives are as follows: 1) Seek wider agreement on the main features and characteristics that advanced transit systems should possess, including cost, service, environmental impact, and marketability, 2) Focus attention on the ways in which advanced transit systems can provide high quality, cost-effective service in medium and low density communities and, 3) Help assess the utility of new and emerging technologies.
Contact Information: Advanced Transit Association, P.O. Box 162, Palo Alto, CA 94302
Contact Information: Dennis Manning, President ullr@cris.com
Contact Information: Jeral Poskey, Secretary jposkey@davinciglobal.com
---

The National Society of Professional Engineers (NSPE) represents individual engineering professionals and licensed engineers (PEs) across all disciplines. Founded in 1934, NSPE strengthens the engineering profession by promoting engineering licensure and ethics, advocating and protecting PEs' legal rights, publishing news of the profession, enhancing the engineer's image and providing continuing education opportunities.
NSPE's primary goals are to: 1) Promote the competent, ethical, and professional practice of engineering, 2) Enhance the image and stature of engineering professionals, 3) Provide education, career development, networking opportunities, and other benefits to engineering professionals and students and 4) Advocate the interests of engineering professionals and protect the public through an effective government relations program.
NSPE serves 60,000 members and the public through 53 state and territorial societies and more than 500 local chapters.
Contact Information: National Society of Professional Engineers, 1420 King Street, Alexandria, VA 22314-2794
Contact Information: Pat Natale, P.E. , Executive Director pnatale@nspe.org
Contact Information: Terry Ames, Marketing Director tames@nspe.org
---
SUPPORTING SPONSORS

TH!NK Mobility (TH!NK Mobility) is a new start up enterprise of Ford Motor Company. It is committed to creating comfortable, reliable and environmentally responsible vehicles including electric bicycles and innovative two and four seat personal mobility electric vehicles. It's mission is to provide fun, creative, practical and environmentally sustainable personal mobility products. TH!NK Mobility is the sponsor of Friday evening's entertainment, EcoMotion with special guest. [For more info, see Exhibitors page or visit TH!NK's website.]
Contact Information: TH!NK Mobility, LLC, 15050 Commerce Drive North, Dearborn, MI 48120
Contact Information: contact@thinkmobility.com
---
COOPERATING SPONSORS
Aspen Community Office of Resource Efficiency

Aspen Global Change Institute

American Public Transportation Association

American Society of Civil Engineers

Colorado Governor's Office of Energy Management and Conservation

Denver Regional Council of Governments

Healthy Mountain Communities

Rocky Mountain Institute

Southern Coalition for Advanced Transportation

Surface Transportation Policy Project

Transportation Research Board
---