The Serpentine Peoplemover System
---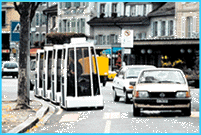 This system is being developed in Switzerland. A paper that describes it was presented at the Automated Peoplemover VI conference, held in Las Vegas in April of 1997. This paper is available in the Proceedings from this conference which is available from the American Society of Civil Engineers. A more recent paper is available on-line. It was presented at the 2nd International Workshop on European Scientific and Industrial Collaboration, WESIC'99, Newport, Wales, UK in September of 1999. It is entitled BURST: Bright Urban System for Transportation, by Denis Gillet and Tristan Chevroulet. For additional detail about the Serpentine project, look at the Serpentine website.
CN Serpentine is a Registered trademark owned by its primary inventor, Dr. Bernard Saugy. BURST is the acronym of a future European research project that aims at developing and validating transportation systems like the Serpentine.
One of the main advantages of the Serpentine comes from the platooning possibility it presents. An application of this technology for the city of Lausanne is being considered. Four recent photos of Serpentine vehicles are available - click here to see them.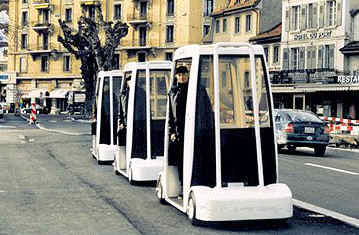 ---
---
Last modified: January 21, 2002