Two Photos of MicroRail Guideway Segment, May, 2002
---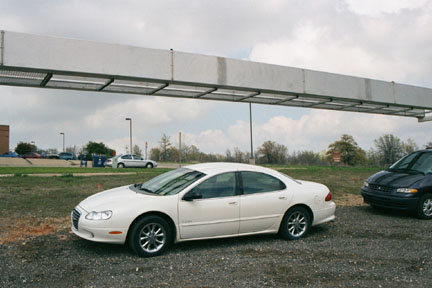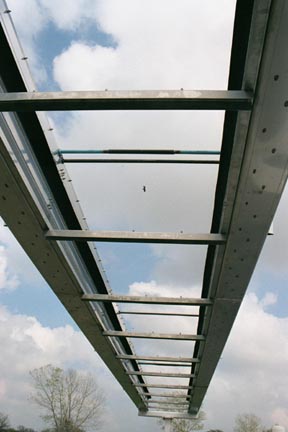 The spacer bars at the top are temporary spacing bars used to counter side forces during hoisting of the guideway section with a crane with attach points at the tops of each rail tube. They had not been removed when the picture was taken shortly after the guideway was bolted in place. They will be removed before a car is put on on the guideway.
The spots on the bottom of the rail tubes are from welding in the 3-inch high W-beams that support the traction rails. These spots do not affect the rusting properties of the stainless-steel. They may be polished out on production rail tubes.
Steel companies do not currently appear to have any problems with producing enough steel of the type needed. The prototype in the picture was built from 304 stainless, but a lower grade 201 stainless steel that does not contain expensive nickel may be used for production purposes. MicroRail guideway really does not use much steel. For example, the total amount of steel used in the 48-foot guideway shown in the photos is only about 4,800-lbs.