Rail project on right track
Source: Albany Times Union, Sunday, June 16, 2002
---
Albany -- Officials award grants for CyberTran's Albany-to-Rensselaer link

By CATHY WOODRUFF, Staff writer
First published: Sunday, June 16, 2002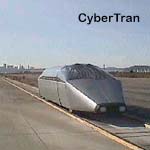 An innovative, automated light-rail system that would shuttle passengers over the Hudson River between the Rensselaer train station and Empire State Plaza is gaining momentum.

The $30 million project, which would use small, 6- to 20-seat train cars and ultra-lightweight rails over the Dunn Memorial Bridge, has caught the eye of state and federal officials, including state Senate Majority Leader Joseph Bruno, who pushed for a $200,000 member item for the CyberTran project. It came on top of a previous $150,000 member item steered by Bruno, R-Brunswick, for planning and preparation work last year.

In a further signal that CyberTran may be rounding the curve toward a full-scale demonstration project, the concept is said to be in contention for $15 million of state funding, possibly from a new Empire Opportunity Fund created in this year's state budget for economic development projects upstate and on Long Island.

CyberTran's developer, CyberTran International, is looking at a site in Saratoga County for a final testing and development phase, and U.S. Rep. John E. Sweeney, R-Clifton Park, is requesting a $5 million federal grant for the project in congressional budget talks.

"I think it offers us some real opportunities,'' said Sweeney, who serves on a transportation subcommittee of the House Appropriations Committee.

Sweeney said the project is intriguing because it serves local transportation needs while accomplishing a demonstration project for a technology with a potential worldwide market.

"I think this is the way of the future,'' Bruno said. "We've just got to make sure it's feasible.''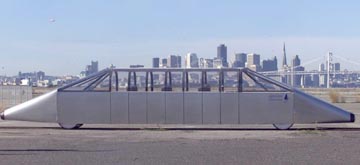 CyberTran, based on a concept developed during the1980s at the Idaho National Engineering and Environmental Laboratory and refined at a test track in Alameda, Calif., is being pushed locally by Bethlehem resident Richard Arthur. He is president of a CyberTran International subsidiary formed to develop and market the technology here.


Arthur, 50, is looking to establish a test track in Malta on the property now being pitched by the Saratoga County Economic Development Corp. for a high-tech industrial park.

The Alameda test track property on the San Francisco Bay is likely to be sold or leased soon for other uses, Arthur said. The company wants a new test site to move the project from a "raw engineering'' research phase into a more practical commercial-standard testing environment.

"Plus, I want to build a local capability here,'' Arthur said. "This is going to be a New York state operation. I want a complete capability in New York state to build these things.''

If all goes as Arthur hopes, his company will build the Albany-Rensselaer CyberTran track infrastructure in Saratoga County and then move it the few miles south for installation.

CyberTran cars resemble small versions of subway or light-rail trains. They are part of a technological family known as "automated rapid transit,'' which operates without drivers and travels on dedicated guideways. A defining feature of the CyberTran system is its offline stations, which allow the cars to stop to pick up and discharge passengers without disrupting the flow of other CyberTran vehicles using the line.

John Dearien, CyberTran International's chief executive officer, was one of the engineers who conceived the CyberTran as a potential transportation system for workers commuting to the U.S. Department of Energy's lab site near Idaho Falls, Idaho.

When a proposal that would have expanded the site's work force fell through, the CyberTran development project was discontinued, but Dearien and his fellow engineers kept the right to continue developing the technology.

Dearien, 60, said his company's current testing, being done in partnership with General Electric and the Bay Area Rapid Transit system near San Francisco, focuses on control system technology that BART also may use in its equipment.

It still is possible that CyberTran's next test track and demonstration site could land in California if prospects there pan out first. But Dearien, who lives in Arkansas, said he likes the idea of doing it in upstate New York. Among other things, he said, this region would allow engineers to discern the effects of environmental variables such as ice, snow, wet leaves and wide variations in temperature.

The demonstration project between Albany and Rensselaer is short of the full-scale regional transportation network that Arthur and Dearien eventually envision for CyberTran, but it would provide a critical step toward marketing their product for wider use here or elsewhere. Public transportation contracts aren't handed out to unproven technologies, Arthur noted, so a working demonstration project is the only way CyberTran can sell itself. Arthur puts it this way: "The transit industry says, 'If you have not done it, you may not do it.' ''

Recently, Arthur said, signs have been encouraging. A detailed engineering report by Clough Harbour & Associates, made possible with Bruno's member item money, concluded in March that the Albany-Rensselaer demonstration route is feasible. The report also outlined three possible configurations for the track and stations.

Arthur said the Albany-Rensselaer project would offer a rare chance to start small while filling a genuine transportation need.

John Poorman, director of the Capital District Transportation Committee, said one strong selling point for transit systems such as CyberTran is their lower cost and potential for wider service, compared with options like light rail, which has been considered for the region's Northway corridor.

Experts put the capital construction costs for light rail systems, conservatively, at $40 million to $50 million per mile, while Arthur projects a per-mile cost of $5 million to $15 million for CyberTran. Once on line, the operating costs of automated rapid transit systems are a fraction of the operating costs for buses and other current mass transit systems because individual drivers are not required, Arthur said.

"When you consider the heavy investment that's being made in many metropolitan areas on light rail, the potential for something like CyberTran to be the public transportation system for the 21st century is great,'' Poorman said. "The landscape is littered with advanced transit technologies that are technically feasible but unaffordable.''

Aside from the Northway corridor and the short Rensselaer-to-Albany connection, Poorman and other planners say, there are other routes in the region that could be ripe for a new, faster transit option. Among the potential stops: college campuses in Albany, Schenectady and Troy, Albany International Airport, the train station and shopping areas.

"In this whole area, you could actually envision a pretty useful set of connections,'' Poorman said.
---
---
Last modified: June 18, 2002