Neuro-Jeopardy
Directions
Welcome to NEURO-JEOPARDY.

Neuro-Jeopardy Game Board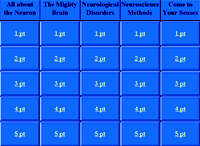 Neuro-Jeopardy is a game to test your knowledge about the nervous system. The game is contained in a Powerpoint file. Therefore, your computer must have the ability to read ppt files.
When you start the game, you will see a table with six rows and five columns. Click on any point value to start the game. You will then be given an answer. Your job is to give the question for the answer. For example, if the answer is: "Responsible for thinking and planning; located in your head." - your question should be "What is the brain?"
After you give your question or if you cannot think of a question, click on the "right arrow" key (->) on your keyboard to see the correct question. To return to the main game board, move your cursor over the picture of the house and start again.
Are you ready to play?
START NEURO-JEOPARDY!
SPANISH Version of Neuro-Jeopardy now available.
[Translated by Fernando Alvarez Cervera, Universidad Autonoma de Yucatan (Merida, Yucatan, Mexico)]